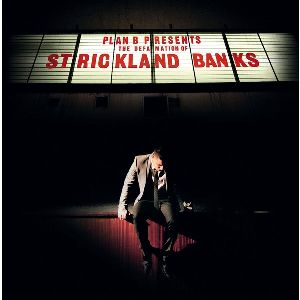 Artist: Plan B
Album: The Defamation Of Strickland Banks
Label: 679/Atlantic
Release: 1/25/2011
Ben Drew, known primarily as Plan B is a man of many talents. A successful hip hop artist, singer-song writer, actor and film director. He is now ready to break out in the states with his US release of The Defamation of Strickland Banks.
Defamation is a step away from Drew's hip hop oriented 2006 debut album Who Needs Actions When You Got Words. With his follow up four years in the making, Drew continues to solidify himself as an excellent lyricist and story teller.
Defamation is a concept album that tells the first-hand story of fictional sharp dressed soul singer Strickland Banks portrayed by Plan B. The album's openers "Love Goes Down" and "Writing on Walls" are soulful love tunes about his girlfriend who is later referred to in the story. The album takes a quick shift into "Stay Too Long" which is a hard hitting funk rock song that would please any long time Chili Peppers fan. Within the first three tracks Drew intends to show all critics and fans that he is not an artist to be simply labeled by one genre. Drew continues his genre shifting album with the jazz-hop "She said" which introduces the role of a woman who is obsessed with Strickland and his music. "She said" represents the key turning point for Strickland and his story as he denies his stalker's advances. Broken, she accuses him of rape for which he is then incarcerated. "Welcome to Hell" is the beginning of his time in prison where much of the rest of the album is told from. "Hard Times" and "The Recluse" show Strickland both scared and isolated in prison for crimes he did not commit. The story continues with Strickland getting a shank or shiv on the prisoner black market after being abused and beaten by other inmates ("Traded My Cigarettes"). Strickland is later accosted by another prisoner whom he kills in self-defense with the assistance of another inmate ("Praying"), with his accomplice taking the blame for the murder. Strickland withdraws into himself in guilt for letting the other inmate take the fall ("Darkest Place"). Strickland moves from guilt to anger and then finally acceptance of prison life ("Free", "I Know A Song"). The tale ends with new evidence and Strickland back in courts leaving the listener unsure of what happens to the defamed singer ("What You Gonna Do").
When broken down track by track, apart from the story, Defamation is a solid album that spans many music genres from soul to hip hop to funk. Fans of Drew's first album will find Defamation a stretch from the artist's original work while still pleasing loyal fans with a solid record. A new term, Soul-Hop, will need to be coined to properly delve into the genre spanning record that Drew has created. With hip hop beats and soulful melodies, Drew paints a story that keeps the listener drawn in from start to finish. The tracks "Writing's On The Wall", "She Said", "The Recluse" and "What You Gonna Do" are the highlights of the album that sum up Plan B's musical talents as a whole. Fans of Professor Green, Chase & Status, Example and Devlin will find themselves at home with Defamation. While each track is good enough to stand alone, the album is intended as a concept; so in order to truly appreciate the story, the album should be listened to from start to finish.
The Defamation of Strickland Banks debuted at #1 in the UK and Plan B is ready to do the same with its US release.
7/10
Trevor Platt [DJ trainwreck]