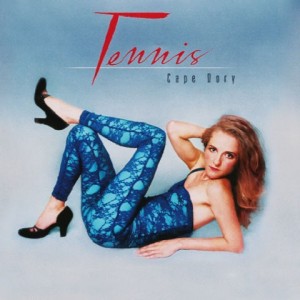 Artist: Cape Dory
Album: Tennis
Release Date: Jan. 25, 2011
After releasing their first single in June 2010, a music blog buzz was quickly formed around cutesy married Denver duo, Tennis. Admittedly, I was one of the people feverishly playing "Marathon" on repeat for the majority of my summer; It was the perfect lo-fi surf-pop gemstone amongst all the other summertime singles, and I couldn't get enough.  It was finally announced that Alaina Moore and Patrick Riley would be releasing their debut Cape Dory in January 2011, a surprising drop date seeing as how well the first few singles meshed with warm weather and green grass.  As it turns out, Cape Dory is the perfect glimpse of sunshine in the middle of winter. In a sense, this album represents a light at the end of a dark tunnel.  The album is a collection of shining neo-doo-wop stars about the couple's eight-month trip exploring the northeastern coast on their boat, Cape Dory— full of maritime crooning and swaying guitars.
The album opens with the charming "Take Me Somewhere", which starts mid-tempo but is quick to blossom into the idyllic surf-pop jam that defines the band's sound as a whole.  Come track four we hear "Marathon" again, in all its glory, obviously re-recorded, but thankfully left largely untouched from the single version released last summer.  Alaina's voice drips sugar as she sings, "we didn't realize/that we had arrived/at high tide, high tide," followed by the chorus of ooh's that got me hooked back in 2010. "Pigeon" chimes in as a perfect change of pace with its sliding guitars and lovey-dovey lyrics; this is where the 60s doo-wop sound really gleams, as if we are hearing a solo from some sort of nautical Hairspray production.  The album ends with "Water Birds"– clanging away, then mellowing to a close and we are left with an uncomplicated form of satisfaction.
Every track is short and sweet. Each is a cohesive and independent piece, but together they form something that provides the perfect half hour of summer dreamin' in the dead of winter.  Warning to those who are heartbroken; Cape Dory is sickeningly cutesy.  It is a sugar rush of love expressed pleasantly and nautically; embrace the simpleness.
Marchese Taylor (DJ Evergreen)