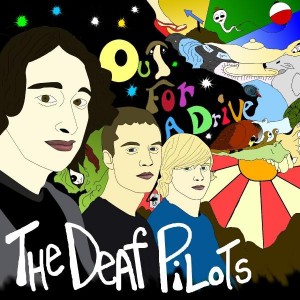 Artist: The Deaf Pilots
Show Date: Mar. 10, 2011
Venue: Café Flo
The local rock trio of Derek Julian, Ryan Fairley and Calvin Van Burg absolutely blew me away at their performance on Mar. 10 at Café Flo. Known as The Deaf Pilots, this hard rock/alternative group has to get some serious recognition. I had heard of this group just sort of being "good" and "fun to listen to" from friends who keep up with local Chico bands, but I literally had to keep myself from smiling like an idiot throughout their 45-ish minute performance that, unfortunately, consisted of only about 20-30 listeners.
Their set started out with a classic cover that anyone who has seen The Hangover knows of; Joker and the Thief by Wolfmother. I'm usually not a huge fan of covers unless they're extremely good, but this was definitely pleasant. They didn't necessarily try to copy the song, but they put a unique twist on it that made it fun to listen to. Let's set one thing straight—no one is going to recreate the high-pitched shrill singing of Andrew Stockdale (Wolfmother singer). Julian, the Deaf Pilots lead singer, didn't even attempt to. They played it to their style and it was superb. I loved it.
Not only were their next few songs very well written and played, but what kept me fascinated was the versatility of each member of this group. Every other song or so, I'd see Van Burg and Julian switch off between guitar and bass. According to the group, even Fairley (mainly the drummer) has picked up the guitar on some songs. This group is extremely versatile. Often times when bands try to switch it up, songs may have a different feel or might not sound all way normal, but everything blended perfectly regardless of who was playing what instrument.
To people who know The Deaf Pilot's, the song of choice is "California Woman." I had never previously heard this song and I loved it (you can check the music video here). Another thing that impressed me was this group's crowd interactivity. They made shout outs, had call-and-response sessions with people in attendance and just simply looked like they were having fun doing what they were doing. It's easy to tell when a band is loose and is having fun and DP definitely fit that mold.
The set closed with a new song titled "Don't Jump the Gun." It was high energy and featured a great solo by Van Burg on the guitar. All of their songs featured fantastic drumming by Fairley and an astonishing bass/guitar/vocal mix from Julian and Van Burg. From start to finish this group had me impressed. They are most definitely the best local band I've heard to date and I would encourage anyone and everyone to check them out.
For more information of upcoming shows, visit TheDeafPilots.com. You won't be disappointed at all.
Geoff Hull