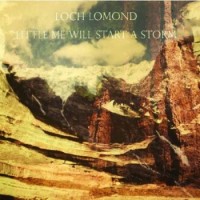 Artist: Loch Lomond
Album: Little Me Will Start A Storm
Record Label: Tender Loving Empire
Release Date: February 22, 2011
Loch Lomond, for those who don't know, is a Socttish loch, or lake, and is the largest amongst the British Isles. It is a beautifully scenic location containing many islands.
It is also the perfect name for the band that originated as a solo recording project for multi-instrumentalist Richie Young in 2003. By the latter half of 2006 the band had solidified itself as a 9 person chamber folk band. Incorporating a vast array of both traditional and nontraditional instruments found in the indie folk community.
On Little Me Will Start A Storm, the band creates whimsical sounds that draw the listener in with orchestral instrumentation combined with a vividness that finds oneself displaced on the bogs of Scotland.
Surprisingly the band originated and remains located as a member of the Portland indie community.   It's almost hard to believe that they were not found singing Celtic folk on the side of Lomond itself.
The album opener "Blue Lead Fences" holds the least amount of orchestral sounds but is is among the most commercially friendly of the album combining sounds of Portland Indie Pop with a folk aesthetics.
Young sings "Cape around my neck, running fast your shoes come off, nothing left so nothing lost" about the simplicities of life found through youthful adventures. Remembering a time in life where there were truly, no cares in the world other then having fun.
The upbeat sounds take a sharp turn into chamber uniqueness with the albums first single "Elephants and Little Girls" with soothing clarinet lullabies and melodic string plucks that would find any classical composer proud.
The album continues this direction bringing in many different sounds and singing styles to paint lyrical portraits. The music created is beautifully scenic with a fresh combination of new and the old. The chamber vocals take the listener on a journey from the insides of a dark gloomy church to the breezy open hillsides of France.
The album is as diverse lyrically as it is musically. Whether its humorously listening to Young compare friends to eggs (Egg Song) or the almost 90s sounding alt chamber "Earth Has Moved Again" in which the subject of starting new with friends or past loves is told through the metaphoric changes of Earth itself.
The album's uniqueness, while a breath of fresh air, can cause the album to play a little more like a chamber concert then the record is was intended to be. It is easy to find yourself tuning the album out due to the orchestral intensity rather then losing yourself to the sounds and atmospheric bliss the record has to offer.
Regardless, Little Me Will Start A Storm is an enchanting album that makes what is old, new again and creates a eloquent shift in a somewhat stagnant genre.
7.5/10
Trevor Platt
DJ Trainwreck
(Originally posted on DJ Trainwreck's blog: TrainWreck Music)