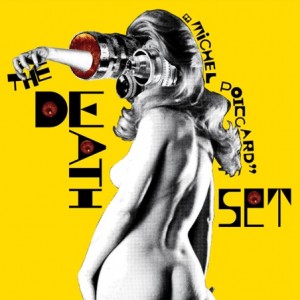 Artist: The Death Set
Album: Michel Poiccard
Record Label: Ninja Tune
Release Date: March 15th, 2011
The Death Set is a high energy music group formed in 2005 in Sydney, Australia by Johnny Siera and Beau Velasco. Six months after the band's formation, they relocated to Brooklyn, NY; the place the band now calls home.
The album received high praise and yielded positive reviews. After a vigorous touring schedule, the band was getting ready to head back into the studio in late 2009 when tragedy struck. On Sep. 27, 2009, founding member Beau Velasco was found dead in his New York studio due to a drug overdose.
While many bands would have quit, the band decided to re-enter the studio and create an album in celebration of Velasco's life. With producer XXXchange manning the decks, The Death Set reemerged with a record that is, quite literally, ready to blow up your stereo.
Michel Poiccard erupts with the same aggressive, Ritalin snorting energy that the band proved they were capable of.
After a warning of the intent of the album on the intro, the band explodes into the first single "Slap Slap Slap Pound Up Down Snap". After heavy electronic bass and repetition of the title, Johnny Siera's enraged sneer breaks through with driving guitars and drums clocking in just under 2 minutes.
The album continues heavy hooks and fuzz lo-fi vocals at times to interpret the message and meaning of the album.
The most interesting parts of Michel Poiccard are easily the guest appearances that can be found on the record. Both Diplo and SpankRock are featured on tracks to add the electronics that are found more heavily on Michel Poicarrd then on previous works.
Michel Pioccard is an album dedicated to the life and loss of Beau Velasco. While there are tracks that still feel like the angst filled Death Set the people know ("Slap, Slap, Slap Pound Up Down Snap", "Chew It Like Gum Gum"), Siera finds himself experimenting with sounds that don't fit well within the intrigue that The Death Set normally presents ("I Miss You Beau Velasco", "We Are Going Anywhere Man").
While the energy is high on Michel Pioccard, the strength in the songs has been slightly lost without the dual vocals of Velasco and Siera. While Siera is a strong front-man, he still has not full grown into his own as a solo leader. But this album shows he has the potential and talent to do so.
After the loss of a founding member, The Death Set bounces back as only they can with an album just as spastic as they are.
6.5/10
Trevor Platt
DJ Trainwreck
(Originally posted on DJ Trainwreck's blog: TrainWreck Music)