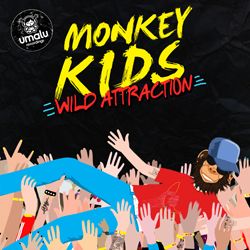 Artist – Monkey Kids
Artist – Monkey Kids
Album – Wild Attraction EP
Label – Umalu
Release Date – Nov 18th, 2011
    Umalu Records and Kahua Promotions bring some new and interesting material this month with the release of a new artist, Monkey Kids, and their debut EP "Wild Attraction". This four track preview is a tribute to the last few decades of psychedelic pop. It has a more modern spin with late 80's inspired dance and ambient synths along with its' share of house beats, 8-bit sounds and various elements of reggae. The layering of each track can, at times, get fairly complex, but the overall mood stays temperate which reflects the album's house and psychedelic pop influences.
    The beginning of the EP starts with a dancy house song. This tune is driven by its analog bass,up-tempo house beats and features plenty of chip-tune embellishments with beeps and bops spread out over the whole song. This song is an example of simplicity, yet it still manages to have a good groove and get people grooving dancing.
    This leads into the next track, which is full on psychedelic pop/rock. This track is driven by piano with accompaniment from guitar and a drony walking bass line.  As the track progresses, synths tones begin to replace the piano as the sound molds and develops into a modern version of the song's opening progression.  Much of the piano's progression is very reminiscent of a few song by Pink Floyd, especially when the added guitar tones and embellishments are melded into the track with the modern synths which eventually make their way into the song.
    Afover glancing back over the last few decades on psychedelics, we sway into the next track which keeps the same psy mood from the previous one but is more house and funk influenced. Ambient synths on house beats pair with a funky bass line to lay down a foundation for this track. These layers are then drawn together by some gritty synth embellishments and reggae inspired vocals. This song was likely my favorite of the entire EP. It keeps the same temperate mood that has flowed through the each song but takes things in more of a funky direction. It makes you want to get down.
    The EP is then topped off with its final track which features more of an electronic pop style, somewhat similar to such groups as Cut Copy and early Tears For Fears. The song is driven by catchy bass and drum line. The song is completed by its dualing bright and warm analog leads which meld a melody that can only be completed by the lo-fi vocals.
    The lyrical styling in this album is simple and seems to be just be thought provoking one liners which are repeated throughout the whole song with slight differentiation between each phrase with added effects to catch your attention. Some reverb and other slight sounds are added to some of the vocals, but for the most part they stay pretty clean.
    If your looking for something thats a little dancy, has easy going synths and vocals, and a world feel to their psychedelic roots then Monkey Kids Wild Attraction is right up your alley.
Attached is a link to Kahua's soundcloud which features a preview of each track on the EP, ready to listen to at the click of a button!
http://soundcloud.com/kahua-music/sets/ulr007/
Ian Anderson (DJ POWDER)
http://soundcloud.com/kahua-music/sets/ulr007/
Ian Anderson (DJ POWDER)