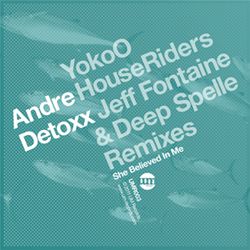 Artist – Andre Detoxx
Album – She Believed in Me EP
Label – UM Records
Promoter – Kahua Promotions
Release Date – Nov. 28, 2011
Uk / Poland based Dj / Producer serves up some fresh material with his newest EP She Believed in Me. This EP features two new original tracks as well as a remix of the first track, Nightchords, and two of the second, Redeem. The featured artists making an appearance on this ep are none other than Australia's own YokoO and Canada's producer duo HouseRiders; Jeff Fontaine & Martin 'Deep' Spelle. Fontaine and Spelle are both featured as HouseRiders on one track and separately on the last. This makes it seem that their collaboration on the first track was done together and on the last was apart. Though it does not seem to be specified anywhere that I have found.
Toxx seems to have been busy these last few months playing plenty of night clubs, writing mixtapes, and collaborating with other artists. Each month he releases a new hour long house mixtape know as The GrooveBar collection for audiences to enjoy. He also has a house radio show on tuesdays at http://www.houseradio.pl/. Sounds like he would fit in great with all of us at Kcsc! Toxx has always focused on a deep house style with plenty of influence from jazz, lounge, soul, and funk. Although he has also been known to dabble in some tech house and vocal house.
The EP begins with two original tracks that feature deep / tech house drums and bass that moves the song through each sweeping phrase as fleeting atmospheric tones present you with an ambient sea in which to you loose yourself. This first track Nightchords features more of a dancy feel to the deep house roots with heavy hitting bass and bright high-hats that weave a progression with the airy synths and various drum embellishments that can only be topped off by a catchy piano lick.
The second song Redeem is similar to the first song in its ambient synth progression and heavy hitting bass, but displays influence from lounge and jazz with its softer drums, progressive bass, as well as an awesome sax 'break' during the latter half of the track. This track also features audio sampling of 'street noise' in the background with the sounds of many people conversing in the foreground. This almost sounds like a subway area, maybe bus stop, basically the sounds of just some of people gathered inside or underground.
The rest of the EP features remixes of those two tracks, the first being a remix of Nightchords, and the last two being remixes of Redeem.
YokoO's Nightchords remix is well constructed. He begins the track with some ascending ambiance before bringing things in more of a dancy direction like the original song. Though unlike its predecessor, this shanty features some sampled vocals, both male and female. These samples act more as embellishments or layers to the tune. This track also features a few more bass and synth 'breaks' than its founder.
Both remixes of Redeem by producer's Fontaine and Spelle are great. The first is more of a deep and dancy tune while the other is more deep and tech house. Both tracks features some vocal sampling, but just as in the other tracks is featured more as another layer or embellishment. Each of their tracks also features hard pumping bass and drums rather than the original tracks more calm and hard bass approach.
Overall, if your looking for something that is the perfect combo of deep and tech house with which you can get a little groovy yet keep things pretty relaxed then this ep is right up your alley. Toxx and associates generously offer up an average of 7.30 min per song. Plenty of time to get lost in each track. If you are a fan of Fred Everything, Atjazz, or Homework then you'll love this ep and all of Toxx's material.
Below are links to the Ep (preview), and Toxx's soundcloud where you can listen in meow and check out some of his new mixtapes as well as all else that this awesome artist has to offer.
EP: http://soundcloud.com/kahua-music/sets/umr003
Andre Detoxx: http://soundcloud.com/andre_detoxx
Ian Anderson (DJ POWDER)