​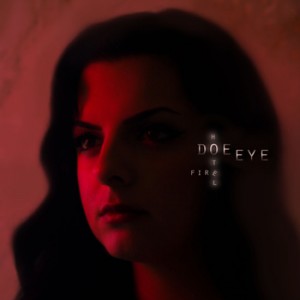 Artist: Doe Eye
Album: Hotel Fire EP
Label: Unsigned
Released: September 4, 2012
San Francisco's Maryam Qudus, aptly named 'Doe Eye' because of her large, brown eyes, is back with her sophomore EP "Hotel Fire" after the success of her first EP "Run Run Run" lead to her being named one of FUSE TV's Unsigned Artists of the Month and a contender in Billboard's Battle of the Bands. Produced by John Vanderslice at Tiny Telephone Studios, "Hotel Fire" shows how much Doe Eye's sound has developed while still retaining the soul-baring lyrics and hauntingly beautiful vocals that have come to be associated with her.
The EP opens with "Oh My God," which highlights the string accompaniment that is a constant in all of her songs.  "Oh My God" starts out slow but picks up the tempo a bit with a soft but prominent rhythm from a snare drum. The next track, "Hotel Fire" is one of the edgiest songs that I've heard from Doe Eye. The reverbed-out track is arranged masterfully with a soft, bluesy guitar combined with signature strings. Throw in Qudus' soulful voice and this song will make you feel like you are in a dream where you are the coolest person in the world. At least that's how it makes me feel.
It also wouldn't be a Doe Eye album without a little heartbreak, and "Falling Up" fulfills that in a surprisingly upbeat kind of way. "Falling Up" could make anyone with a broken heart relate to lyrics such as "You broke my heart to millions of pieces thrown on the ground, among the ground/ I'm falling down to pick up the pieces." At the same time, however, it's a toe-tapping good tune that also reminds the listener of the optimism that comes when falling in love in the first place, so thank you for that Doe Eye. The last track on the EP, "Run Across the City" shows the love that Qudus has for San Francisco. She often refers to the city as her muse. The reverb from her guitar and vocals really fill up the song in a pleasing and relaxing way, while the lyrics make you want to pack your bags and get to San Francisco as quickly as possible. "Run Across the City" starts out slow but builds up into a beautiful head-bobbing mix of rad guitar strums, strong drum beats and, of course, the ethereal vocals that you could only hear coming out of Maryam Qudus' mouth.
You can really feel the love that Doe Eye has for her music and the pure joy she takes in writing it and sharing it with the world. She is such a unique artist in the way that she includes so many types of instruments and carefully pieces everything together to create a sound that is incomparable to anyone else out there. Of course, you could also call her unique because she is the only artist that goes out on stage dressed as an omelet and who writes expressive love letters to all of her fans, but that's a different story!
Check out the tracks "Hotel Fire" and "Falling Up"