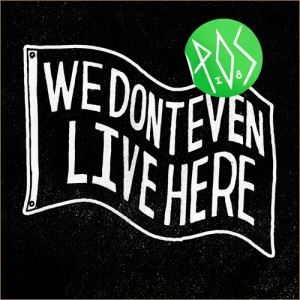 Artist : P.O.S.
Album: We Don't Even Live Here
Label: Rhymesayers Entertainment
Release Date: October 23, 2012
P.O.S, the Minneapolis rapper, has written an end-of-the-world-album. Don't be worried. This is a great thing- a really great thing. So great, in fact, that the idea of the world collapsing to this soundtrack makes the entire scenario just a little bit better- silver lining to an unfortunate event, perhaps? We Don't Even Live Here is a smart, drum heavy, confident step forward from the rapper's last album, Never Better. Though P.O.S primarily associates himself with being an indie rapper, his beginnings as a punk rocker are audible in this last album.   The beats are energetic, dance heavy, bursting with powerful aggression yet still balancing the percussion with accessible lyrics.
The album begins with the track Bumper, and from the get-go P.O.S ties the album back to his last. I take my time with it/ I take forever, so sick of work and that clever/ Let's skip ahead to the next/Pushin' my own limits. P.O.S isn't afraid to acknowledge his own artistic progression. One of the more interesting facts of the album lies in the song, How We Land. By far the most prolific and featuring Justin Vernon from Bon Iver, the song summarizes the tone that the album spends so much time trying to set.
P.O.S's We Don't Even Live Here is fantastic because it brings to light important issues using the platform of catchy and heart thumping rhythm . Such topics include everything from the music industry, our economy, and pop culture are layered over attainable lyrics such as, At ten pack I might as well resort to robbery/ While rappers try to act like they labels advance 'em money still/ And acting rich in a shaky and fake economy/ Might make the indie kid at the awards show snatch a chain and peal.
This album is refreshing and needed in the current Hip-Hop environment. I highly recommend giving this album the time of day (even though P.O.S lets us know the world is going to end anyway.)
Reviewed by Claire Mckinzie