Artist: Sky Ferreira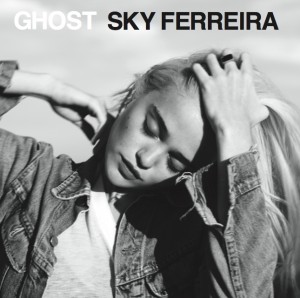 Album: Ghost EP
Label: Parlophone
Released: October 16, 2012
If you've followed Sky Ferreira you are aware that as an artist she is tremendously experimental with her sound. Whether it's struggle to find her sound, only she knows or up for a listener to decide. Fortunately the short five-track Ghost EP is an amazing journey that ventures in a variety of genres. Ferreira proves she is capable of crafting a hit in Pop, Grunge, and Electronica etc. Ghost showcases the great vocal chords she posses and talented song writing ingénue. Even though the ride is brief it's a memorable one.
It begins with a folksy, Dylan-esque number "Sad Dream" which is a solid girl-with-a-guitar record with a surprisingly pleasant outcome. Channeling à la Laura Marling with sultry and soothing vocals."Lost In My Bedroom" is the EP's electro-pop melody that sounds similar to Sky's previous sound that first propelled her into the spotlight. It's a mixture of Feist' "My Moon My Man," meets Alison Goldfrapp's in "Ooh La La" The beat sparkles and is utterly mesmerizing. We then head back to the boozy alt-country "Ghost" Ferreira brought the likes of producer Jon Brion and it shows as the record sounds like something Fiona Apple penned during a fifteen-minute coffee break.
It is similar to the unreleased Apple's Extraordinary Machine material. Good record that deserves major kudos to Sky for diving head first into the country genre so willingly, even if just for one song. The 90s' grunge reminiscing is due to "Red Lips", which was written by Shirley Manson of Garbage. The song is really actually just a Garbage song. Not a bad thing, but not necessarily a great thing either.  It sounds like something Manson decided not to put in their last album and handed over.The end song, "Everything Is Embarrassing" is pop at its best. It is a tuneful dance ballad with an urban piano arrangement and snappy lyrics. "Maybe if you let me be your lover/ Maybe if you tried then I would not bother." Please be bothersome and listen.
She's gone from indie spirit free to pop Lolita to country glamazon in a five track EP. She is not limited to one genre of sound. The only question now is whether we'll ever get a full album. If Ghost proved anything, it's that she's definitely worth the investment.
Reviewed by Angel Huracha