Art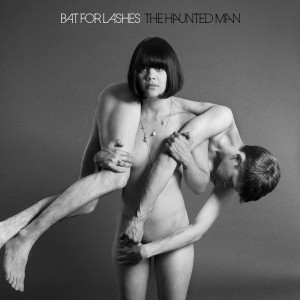 ist: Bat for Lashes
Album: The Haunted Man
Label: Parlophone
Release Date: October 12, 2012
In an interview with NME Natasha Khan, better know n as her stage name, Bat for Lashes, spoke of her 2012 release and the album art that for many was radically different then her previous two efforts. "I really wanted to strip thing back in honor of women," Khan told NME. "Like Patty Smith, these raw, honest women. I had no make-up on,  it's just me and my haunted man!"
With The Haunted Man, Khan does just that. It is such a stripped back record and emotionally raw that nothing but passion and true prevails. Compared to her previous works, defined by atmospheric almost dream like qualities, Khan develops an album filled with simplicity and eloquence. Khan opens with the haunting yet beautiful "Lilies". A long slow build, driven by Khan's honest yet stretching vocals make her opening ballad one that sets the strong emotional pace for her record. "Thank God I'm Alive!" belts Khan as the track crescendos to the finish.
Picking up immediately from the supreme high that "Lilies" end on Khan picks the listener ups and keep right on pushing with "All Your Gold." A song defined by her inability to give her love to "a good man" because she gave it all away before. The Haunted Man is another excellent record from a strong female artist equivalent with comparisons to artists like PJ Harvey, Kate Bush and St. Vincent. Khan is at her strongest on "Laura" a beautiful piano driven ballad about a friend who stayed behind, stuck in a different life as Khan and everyone else began to grow. "Laura, you're more than a superstar," wails Khan as she pleads for "Laura" to realize that there is more to parties and the night life. The emotional delivery that drives one of Khan's strongest songs to date draws the listener nearly to tears.
Natasha Khan once again manages to release another outstanding album white completely changing almost everything about the way she delivers her message. Bare, stripped down and beautiful, Khan delivers in The Haunted Man.
Reviewed by Trevor Platt