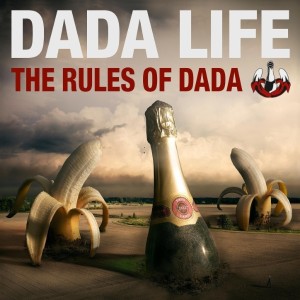 Artist: Dada Life
Album: The Rules of Dada
Label: So Bleeped AB
Release Date: October 12, 2012
It's finally out! The Rules of Dada – is an album that many Electro House fans and festival goers have been dancing their asses off to all year long, from Stockholm-based Dj's/ Producers Olle Corneer and Stefan Engblom, better known as Dada Life. Dada Life have been together since 2006 but truly rose to fame during the 2010-2011 festival season playing for thousands of people at Electric Daisy Carnival, Electric Zoo and Ultra Music Festival to name a few. They gained respect and recognition throughout the edm scene from their great sense of humor through stage presence and of course the well known Dada Life philosophies which are reflected throughout their productions and their new album. The Dada Life philosophy is "Destroy dance music and have fun. Don't look back in the past. Always go forward. Don't think too much. Always follow the money. Do the Dada."
When discussing the development of this album Olle said, "What we wanted to do with the album was make 11 bangers. We just wanted it to sound like 42 minutes of smash and grab. We took the inspiration from '60s rock & roll, '70s punk – you know, whatever is high energy is what we're into. No ballads, slow tracks, no noodle tracks. Some are really far out there, we have really pushed ourselves to the limits." And they did just that creating an album full of equally impressive tracks that are all unique and excellently produced. These tracks are all based of the Dada Life philosophy with track names directly quoting the Rules of Dada which include "Feed the Dada," "Arrive Beautiful – Leave Ugly," "Happy Violence," and "Everything is Free." This album is full of hard hitting, big room vocal, electro house beats that have made it hard for any listener whether a fan of edm or not to start bobbing their head, get up and dance and want to go have fun!
"Kick out the Epic MotherF**ker" the first track on this album starts introduces new listeners to the Rules of Dada by starting off with in your face heavy fog horn like bass lines, huge big house builds and drops, which became one of the most popular songs of this year's festival season with remixes by Datsik, Otto Knows, Dirty South, Bingo Players and Chuckie throughout their live performances. The fast head banging pace is kept up throughout this entire album rarely giving listeners a chance to stop the party except for some lighter and uplifting tracks like "So Young So High" "Everything is Free" and "Don't Stop" which wraps up all The Rules of Dada.
Dada Life just recently finished their official North American Tour with over 50 dates across the country including shows in Boston, Washington
DC, Chicago, Miami, Las Vegas, Seattle and of course Chico! Dada played alongside other well known Djs such as Adrian Lux, 12th Planet and the legendary Tiesto throughout the tour. Dada who was here Oct. 28th for an Epic Halloween style event played to a diverse sold out crowed full of very energetic fans and first time edm listeners. This show was a great success which was even noted the next day by Dada Life on their face book page quoted, "Chico was so much fun! Everyone came beautiful and left ugly! A proper Dada show!" With the great success of their new album, Dada has been launched into the spot light as a group of must see dj's who consistently arrive to shows dressed up in costumes and with plenty of bananas and champagne to shower the crowd. I give this album a 5 star rating and am very excited to see what they create in the future!
"This is Dada Land. Get ready to arrive beautiful and leave ugly. There are no rules but the rules of Dada. Don't look back in the past. Always go forward. And whatever you do: don't trust us"
-Dada
Reviewed by Daniel Govan