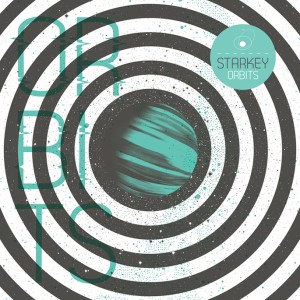 Artist: Starkey
Album: Orbits
Label: Ninja Tune
Release Date: December 3, 2012
In beeps and bumps, Starkey's third album launches you into an extraordinary sci-fi journey through the cosmos going from star to star on his musical bass-ship. Beautifully illustrated with spacey production, each song represents a part of the trip as you explore the galaxy. For example, in "Dystopia" everything is alright as you gaze out the window calmly enjoying clear spacey musical landscaping of low synths….then BAM! You enter a meteor field, with panicky sharp synths scattering across you as the song quickly bursts into out of this world break-beat.
Self-proclaimed "Street Bass" artist, electronic music fans have been taking notice of the Philadelphia native over the past half of this decade. He has remixed several artist such as Foreign Beggars, Reso, and Innerpartysystem, as well as produce for rappers. Starkey rose to notice before the electronic music scene exploded in the U.S., where he's been orchestrating a combination of grime, dubstep, crunk, and break beat to a fine tuned, musical art.
Orbits captures the audience very early on when in only the 2nd track, all chaos breaks loose in the equivalent in what can be described as the album's take-off. All-systems are a go once the track drops because "Command" rains trap-like bass beats that vibrate to compliment chopped vocal coated, reverberating chill synths.
Easily the highlight of Orbits, "G V Star (Part 2)" is a track that will be played in music festivals in the near future. As described by BBC, "It could probably launch a festival tent into space." A monstrous breakbeat rampage is thrown upon us, with deep chopped vocals requesting to wake up the bass. Grime is slathered all over, as it bathes you in sludge, leaving you in filth.
The album as a whole works together quite well, with great transitions between songs. Typical bass-lovers should be all over this album, as Starkey packs his tracks full of his brand of "Street Bass" music.
Reviewed by Jordan Raygoza