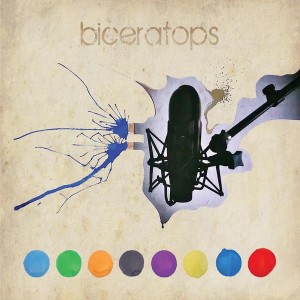 Artist: Biceratops
Album: Biceratops
Label: MDB Records
Release Date: November 19, 2012
The instrumental EP that will take you on a speed of light ride and explore the deepest depths of your mind. Matt Embree and Chris Tsagakis (C-Gak) have been a strong musical force in the Alternative-Rock scene for now over a decade and are at it again, but this time with what seems to be a unstoppable and epic musical drive that is for a first, absent of any vocals.
A group of musicians that contain so many genres and sub genres in their music, they are impossible to put a label on. This goes for their previous bands and projects as well. The Duo has written the majority of guitar and drums for their groups Rx Bandits, The Sound of Animals Fighting, Me & LP and much more; and bring a whole new dimension to the table with this previous experience under their belts.
The album starts with the song entitled "Are We here", which begins with what sounds like underwater salsa, and progresses to heavy, hard-hitting guitar and drums. This pattern seems similar yet completely unfamiliar while listening to the brilliant seven song EP.Through out the album, background synths create almost feelings of vulnerability to the listener until a burst of big instrumentals comes to add lightning to the thunder.
Biceratops is a 'must listen' for any musician or Alternative music activist like myself.
Reviewed by Troy Carson