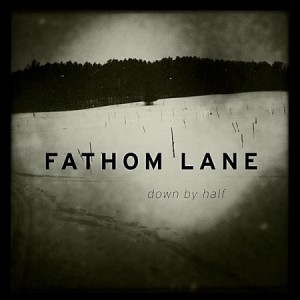 Artist: Fathom Lane
Album: Down by Half
Label: CD Baby
Release Date: October 2, 2012
Michael Ferrier's new project being accompanied by Ashleigh Still on vocals with the first release with Fathom Lane. Formally a Saxophonist with Electropolis, Ferrier decides to return to what seems to be his true roots and passion for music. This record will take you through what seems to be scenes and stories of what has been described as "love and loss, but mostly loss". In each of these song, there seems to be something that almost everyone who has ever "fallen in love" and has had those crash and burn moments can relate to. Right from the get go with the song Hope you never, Michael Ferrier and the rest of the band demonstrate their ability to create a class rock song, with a melancholy harmony between him and Still. The band then continues to fill in the follow bars of music and before you know it, you have a nice twangy rock solo and solid drumming.
The performances on each song were solid from beginning to end, which demonstrate the skills and the in studio dedication when the record was being made. As you progress to the album, you get a variety of styles which can be detected. The second track of the album Snowbride features violin, dark cello melodies, and a creeping stand up bass line. The drums and guitar which were present in the previous track were completely said aside. Almost as if you were listening to an entire different record says a lot about Ferrier's musical approach, in terms developing and staying fresh not just from album to album but from track to track. However, it is Ferrier's unique vocal style and deliver that ultimately holds the album together.
The rest of the album remains pretty consistent with regards to inclusion of the rest of the band. The rhythm guitar remaining as the basis for the song as a whole. You can hear that country folk and hard rock influence throughout and blended beautifully. The record is the kind that'd you'd want to keep around for those late nights in which you just want to sit back and relax to soothing instrumentation, or have those serious life reflection moments.
Reviewed by Adan Gonzalez