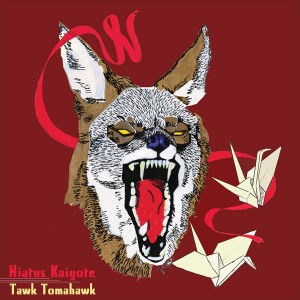 Artist: Hiatus Kaiyote
Album: Tawk Tomahawk
Label: (No Label-Unsigned)
Release Date: April 12, 2012
Hailing from Melbourne, Australia, HaitusKaiyote is a four-piece outfit self-describing themselves as 'future soul'.  There's certainly no lack of soul in their sound, and if this is the future of music then get excited. But if you consume yourself with trying to categorize the music on their debut release Tawk Tomahawk, you're wasting your time and most likely missing out on digesting in the unique musical creation.
Grounded in jazz and soaked in an eclectic array of influences– hip-hop, electronic, latin,R&B, and opera among them– there isn't much that these crafty Aussies don't touch.  Their compositions allow their exceptional musicianship to shine through, but never in an overbearing manner, expertly and tastefully weaving together energetic live instrumentation and swirling electronic sounds.  At the center of the stage,eccentric lead singer and guitarist Nai Palm'ssilky yet powerful voice takes control of your ears, whether you give her permission to or not.
The heavy,hypnotic synths and grooving sixteenth note percussion of "Mobius Streak" open the album and suck you in. By the time itcrescendos to a high energyconclusion you may think you have a feel for what Hiatus Kaiyote are all about, but the second track, "The World Softly Lulls", smashes that notion witha relaxed, soulful song full of auxiliary percussion and very little electronic instrumentation.
The beauty of this album is in its variety.  Each song creates an interesting juxtaposition between itself and those before and after it. Somehow, though, the album flows beautifully as a whole.  By the time the final track (the crown jewel of the album) "Nakamarra" finishes, you're left begging for more of Hiatus Kaiyote'sgenre-blending future soul, leaving me to believe (and pray) that we will be seeing much more from these unique Australians in the future.
Reviewed by Ross Perry