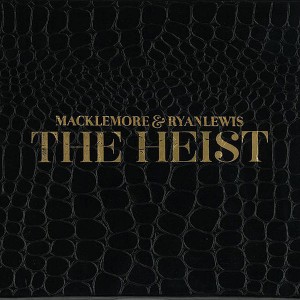 Artist: Mackelmore & Ryan Lewis
Album: The Heist
Label: Macklemore
Release Date: October 9, 2012
Seattle natives Macklemore and Ryan Lewis have been creating the debut of their first full-length album for three years. Macklemore has been in the game since 2000 and has put out many EP's prior to this album, but took a break a few years back due to tackling personal issues and dealing with a substance abuse problem, which is not hidden nor covered up on the album. On the contrary, Ben Haggerty (Macklemore) uses his past experiences to fuel his clever, powerful, and personal lyrics. Ryan Lewis breaks down a variety of beats covering both ends of the spectrum. From the simple and humbling sounds of "Same Love", the pro-homosexual marriage anthem that has recently gained attention in the media, to the fun and catchy tone of another single of the album "Thrift Shop", which features a more old school vibe with electronic influence and some humorous lyrics that keep you actively listening to Macklemore's flow.
What is perhaps most unique about The Heist, is that it was all done independently, and the perseverance that the duo has had creating this project has definitely paid off as they reached the top of the itunes charts. Creating such a strong album and following is quite an accomplishment for any artist, let alone doing it by themselves. The 18-track album features a variety of songs in respect to mood, message, and elements used and is well worth checking out both for Macklemore's lyricism and Ryan Lewis's ability to include a seamless mix of hip-hip, electro, and percussion instruments to back the tracks. Among the layers of rhythm Macklemore presents brutal honesty about himself and life around him in an artistic way with versatile rhymes and flow styles. The autobiographical style of the album adds a classification of conscious hip-hop, but that is not all that the album offers to its listeners. Also recommended is catching a Macklemore & Ryan Lewis show live, they are very energetic and enthusiastic performers and put on a great show with a balance between serious and fun tracks. The independent artists, now gaining a huge following and making it solo; they must be doing something right.
Reviewed by Becky Schultz