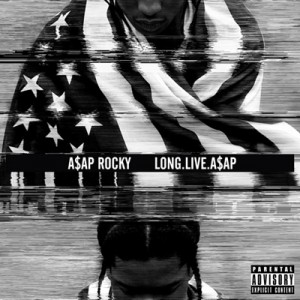 Artist: A$AP Rocky
Album: Long Live A$AP
Label: A$AP Worldwide / Polo Grounds Music / RCA
Release Date: January 15, 2013
Hype comes fast in the Big Apple, and fades as quickly as they come.  A$AP Rocky's  rise was fast, but his speed was matched by action.  In late 2011 this young Harlem MC, A$AP Rocky, announced his arrival to the hip hop world with his impressive mixtape, "Live Love A$AP," that married a flamboyant New York state of mind lyrics to Houston's woozy chopped-and-screwed sound.  Now, less than 18 months later, he's releasing his highly anticipated major-label debut, "Long Live A$AP."  This child of Harlem has a new idea about how to be a New York rapper.  "Long Live A$AP," is placeless and universal, an album that sounds as if it has ingested the last 20 years of hip-hop's travels and would be comfortable anywhere. There's chewy, slowed-down homages to Houston, flow patterns reminiscent of Cleveland's Bone Thugs-N-Harmony, nods to New Orleans and Atlanta and the Bay Area and everywhere else hip-hop is made. Almost everywhere but New York, it seems.  The old New York, that is.
The album as a whole is diverse with an extensive list of features and big name producers.  The album provides a potent blend of smoked-out,screw music production, southern drawl, and east coast rhyme schemes. There were moments that were forced, even over the top, but were always made for an interesting contrast with Rocky's energetic, shit-talking verses. On the opening title track "Long Live A$AP," he illustrates an intimate view of his youth, rags-to-riches story and "expensive taste in women" with an unparalleled flow that switches in mood.  "Goldie," the albums long-established gem, is no less satisfying now than when it was released as a single almost a year ago. Hit-Boy morphed his production style perfectly for the track and Rocky takes advantage of it. The track has the kind of charisma that A$AP's fans have tightly latched onto.  It's also found in "PMW" alongside Schoolboy Q that re-captures the chemistry found in "Brand New Guy" and "Hands on the Wheel," ends up as an entertaining heavy hitter. On "1 Train," an incredible posse cut which literally features six guest MC's in a row, no chorus (Kendrick Lamar, Joey Bada$$, a stunner from Yelawolf, Danny Brown, Action Bronson and Big K.R.I.T).
The album reaches its most delirious peak at its center when it starts developing as a bad pop experiment.  With songs like "Fuckin' Problems" which would be a mainstream hit with or without A$AP Rocky featuring big names like Drake, 2 ChainZ and Kendrick Lamar.  "Wild for Tonight" (his much-awaited/dreaded Skrillex collaboration). This one is especially a mess: Skrillex doesn't know how to structure a rap song, and Rocky vocals just feel forced.  With tracks like "Hell," A$AP returns to Clams Casino who also produces the track "PMW" on the album, is a characteristically lush tune that unleash
es an irresistible laidback head-nod. It's a great beat but its Santigold's chorus that makes the track something worth returning to.  A$AP Rocky concludes the album with a Florence Welch-assisted track "I Come Apart."  Once again finding himself stepping out of the box on his final track with the leading lady of Florence and the Machine concluding the album in typical A$AP Rocky fashion. The thing about A$AP is that no matter how much you love or hate him, its clear that he has his own style.  He is fearless when it comes to taking risks and that's what makes this A$AP Rocky joint a must listen.
Reviewed by Wes Sarver