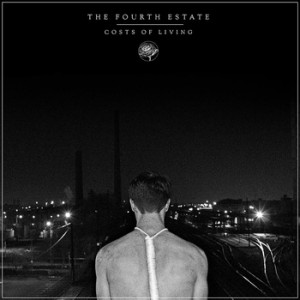 Artist: The Fourth Estate
Album: The Costs of Living
Label: Spring Street Records
Release Date: January 23, 2013
To those who would wonder if good, honest, political punk rock has finally vanished from the world, you need only look to The Fourth Estate, a five piece band from Birmingham, Alabama. Formed in 2011, the band has been busy since its origin, releasing two EPs and preforming three U.S. tours. The Fourth Estate's new record, The Costs of Living, released earlier this year on Death to False Hope Records, is the band's first full length album. Its clear they did not intend to disappoint.
Right away the album starts off with "The Road to New Damscus, Pt. I" an explosive track that brings to mind the golden age of punk rock, with the same crowd driving energy and mentally stimulating type of message that makes one stop and take a second look at the governing forces of the world. The album then moves on to perhaps its best track, " The Ballad of Eugene Debs" a quick paced song celebrating the working classes of the world and encouraging them to speak out and fight for the basic rights they have in some cases been denied. The song also speaks to governments, proclaiming loudly that it is seen what they are doing to their people. Simply abating public need to keep them in line and subservient.
With all the energy, drive and passion one would expect from bands like Rise Against, NOFX and Strike Anywhere, The Fourth Estate masterfully crafts each track. Combining thought provoking messages with the dirty punk rock sound that the punk rock community has come to know and love. With songs like "Rosewater" and "Suicide Watch" proclaiming the need for personal responsibility rather than relying on an unseen deity, as well as tracks like "Waster" and " Union Pacific" which remind us about those of us experiencing life changing disorders such as depression and post-traumatic stress disorder. The overall message of "The Costs of Living" even seems to coincide with the message of old punk. Something to the effect of …"Yeah life sucks and it's going to be hard, and no, the world isn't going to help you through it all. You have to depend on your friends, your family and most importantly yourself to get through it all." A message that is laid out in summary by the last track of the album " The Road to New Damscus, Pt. II"
This album is a little piece of hope for those of us who thought political punk rock was dead. My only problem with the album as a whole was the fact that the best song seemed to come much too soon and the rest of the album didn't seem to be able to keep up. This however, is only a personal bias and is certainly not a big enough problem to take away the album.
Reviewed by Kaleb Sievers