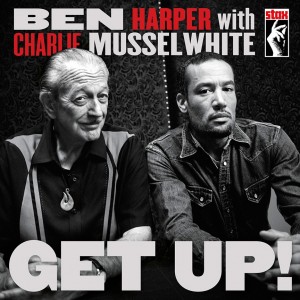 Artist: Ben Harper with Charlie Musselwhite
Album: Get Up!
Label: Stax Records
Release Date:  January 29, 2013
The new ten-track album from Ben Harper and Charlie Musselwhite, Get up!, features an array of sounds that come together to create a much anticipated soulful powerhouse of blues and rock and roll. Ben Harper lays down his familiar multitalented style and melody on the mic and guitar, experimenting with other instruments along his way through the album. Accompanied by Harper is Mississippi native Charlie Musselwhite who has an over fifty-year history of jamming as a master of the harmonica. Musselwhite has a place in the Blues Hall of Fame and has played with famous artists of the Blues world such as Muddy Waters, Howlin' Wolf, and Tom Waits. He owns his commended skills over the tracks and delivers his famous and varied approach to the harmonica while exploring different genres along the way. The rest of the band: guitarist Jason Mozersky, bassit Jesse Ingalls, and drummer Jordan Richardson aid greatly in giving this album a high success with a raw and unique feel.
The alum incorporates heavy blues, rock, folk, and soul and provides influence from past decades that create variation of tempo and mood throughout. The album was born through experimentation of tones and subgenres and an idea of bringing a dope jam session to life. Get Up! provides a lot of attitude and carries an old school vibe that features an organic partnering of instruments such as the slide guitar and of course the harmonica. At lot has come about to create this collaboration and the album stands as " a record Harper has always aspired to make, but knew required the essential life experience".
Recommended tracks to listen for include "I don't believe a word you say", "You Found Another Love (I lost another friend)", and the slow paced, yet powerful and soul-driven, "Ride At Dawn". The track "Blood Sight Out" is reminiscent of both classic Jimi Hendrix and rhythm of The Black Keys. Expressive lyricism is delivered that sets the mood of each track such as the single off the album, "Get Up!" that has Harper voicing "don't tell me I can't break the law, cause the law has broken me" as Musselwhite chimes in with his celebrated harmonica. "We Can't End This Way" offers the blues integrated with the soulful feel of and even clapping and background vocals of a church choir. "She Got kicks" gives a fun flavor and 50s influence to the blues and then goes into the closing track, "All That Matters Now" putting a heart-heavy and jazzy finish to the LP that will make you want more. "I can't get well/ there's no cure for life/ let me down easy, at least tonight/ now we're together and that's all that matters now". Among the album's tracks, everyone
Review by Becky Schultz