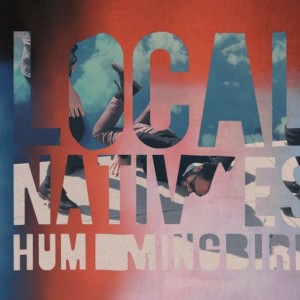 Artist: Local Natives
Album: Hummingbird
Label: Frenchkiss / Infectious
Release Date: January 29, 2013
Indie-rock has never sounded so beautiful as when the L.A. based, 4-piece band, Local Natives debuted their sophomore album Hummingbird. After the bands first piece of audible gold, Gorilla Manor, which debuted back in 2010, listeners were left to wonder how it would be possible to top such an eclectically, well-rounded album.
Throughout Hummingbird, the band proves their musical innovations could not/would not plateau. Being compared to bands like Fleet Foxes, Grizzly Bear, and Animal collective, Local Natives definitely can hold their own as proved throughout the duration of this record.
The rustic and yearning vocals, gorgeous harmonies, jamming guitar leads, detailed lyrics, illuminating synths, and clattering percussion that were featured in Gorilla Manor captured the ears of many who will not be disappointed with Local Natives' new masterpiece. It would appear that the band took a step toward maturation with Hummingbird, producing a cohesive, novel sound; hauntingly beautiful vocals, sumptuous harmonies, delicate strings, nostalgic lyrics, and mellowing drum fills. After lead singer Kelcey Ayer's mother passed away last summer, this album displays a vast array of emotion that is apparent and felt by the listener especially on tracks like "Colombia"(listen to this song if you want to cry your eyes out).
To begin the album, "You & I" provides the listener with effortless vocal harmonies, swelling guitars and a subtle, yet gut-wrenching beat. Following, "Heavy Feet" explores a rich, beautifully bittersweet melody that exudes the strength of Local Natives' harmonic power. Next, delving in the sweetly sung, short, but to point song "Ceilings" that keeps the listener on their toes, and deeply anticipating the what is to come. "Breakers," which was one of the pre-released singles, demonstrates the bands ability to effortlessly create so much feeling while remaining completely authentic offering perfectly composed verses which evolves into a grand, sweeping chorus. Before the albums commencement, "Colombia"– which is Ayer's tribute to his mother–features one of the most heartfelt songs on the album. With exquisite swells followed by angelic bass, elegant piano, and transforms into something warm and emotionally engaging further topped with ever-poignant lyrics, "If you never knew how much/if you never felt all of my love/I pray now you do."
As with many sophomore albums, bands are often confused and unsure of where to go next. Fortunately for Local Natives, and their adoring fans, Hummingbird testifies as a triumphantly ambitious album that is sure to please. This record debuts the strength and innovation of an extremely talented group that aims straight into the listeners emotions and hits the target; this album is as cathartic as it gets. Overall, Local Natives prove to be a brilliant contender for one of the best indie-rock bands of our time, and Hummingbird to be one of the best albums of the year.
Reviewed by Genevieve Jones