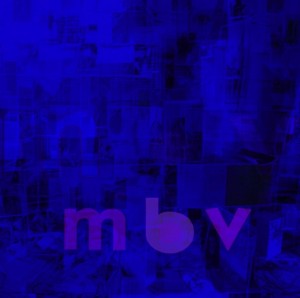 Artist: My Bloody Valentine
Album:  m b v
Release Date: February 2nd, 2013
To say that the follow up to Loveless, My Bloody Valentine's 1991 release, had been eagerly anticipated would be a massive understatement.  It's hard to know how exactly this record came to be in the twenty two years spent awaiting its release- that fact alone should qualify it is something of a miracle that we get to hear a proper new release from such a mythical band. Never mind the fact that it was announced it would be coming out in two or three days in an offhand response to a heckler, but sure enough, the record appeared in the bands own web-store, as if it were a dream, seeming entirely too good to be true.  No label, no ads, no press release, nothing. The groundswell of excitement overloaded the servers and presumably took years off of my, and other fans, lives in the hours (ok, maybe minutes) that it took to fix, while we anxiously awaited salvation in the form of m b v.
"She Found Now" opens the record with the kind of nervous elation that one might feel as they find themselves reacquainting with a former lover after some time has passed; it leaves you to wonder why you ever split in the first place. It's illuminating that while the band was largely absent for much of the 90s/00s, they still found a way to surpass much of what had been released in the interim, even at their "worst."  Not to say that this is in any way, shape or form, bad, but it will never live up to the reputation of their previous record, at least according to some reviewers, but then again what ever could? One only has to listen to the sixth track of m b v entitled "New You" to realize how effortlessly the group works at implanting its melodies into your head.  Kevin Shields buoyant tremolo'd guitars inviting you in for a closer listen while the gentle coos of Bilinda Butcher disarm, leaving you no choice but to surrender yourself to this blissed out pop confection.
What follows in the final three tracks may come as a bit of a shock with its more antagonistic squalls of noise and military like drumming, which happens to be this reviewers favorite third of the record.  The thrilling final track aptly titled "Wonder 2" is a drum and bass take on m b v's signature sound, and what I'd imagine Willy Wonka's infamous boat "trip" to sound like- that's if Kevin Shields were to take over for Gene Wilder.  It's a hell of way to end it, and if it's any indication as to where the band is headed, I cannot wait to hear the next record, though I have a feeling it might just be a while.
Reviewed by Noah Ben-Eisha