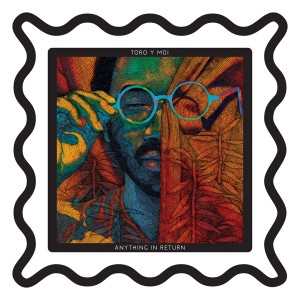 Artist: Toro y Moi
Album: Anything in Return
Label: Carpark
Release Date: January 16th, 2013
In the digital age, the world changes exponentially. Remember how four years ago the words "Instagram" and "Spotify" didn't exist, and the phrase "taking a selfie" meant something really gross? In a world where websites and restaurants have to change designs every six months to stay relevant, artists must continually evolve or risk being crushed under the weight of our "What have you done for me lately" indie music culture.
Three years after "chillwave" label thrust upon him by an eager blogosphere, Chaz Bundick has done just that. With Anything in Return, Bundick's third album as Toro y Moi, the multi-instrumentalist producer has moved on to crafting straight-up electronic R&B jams that evoke closer comparisons to Frank Ocean's Channel Orange than anything by Washed Out or other "chillwave" contemporaries.
Anything in Return doesn't aspire to the retro fuzz of Toro y Moi 2011's LP Underneath the Pine, but it stands on its own as a collection of sultry, earnest ballds and funky electropop. The album's two singles exemplify this duality—"So Many Details" flatters the ears with seductive layers of distorted bass and keyboard arpeggios, while "Say That" languishes in lyrical ambiguity beneath glitchy polyrhythms.
Chillwave purists have expressed dismay with the direction of Toro y Moi's sound, but as long as Bundick can continue to deliver bangers like "Grown up Calls," he's got my ear.
Reviewed by Earl Parsons