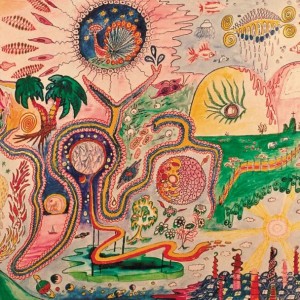 Artist: Youth Lagoon
Album: Wondrous Bughouse
Label: Fat Possum
Release: March 5, 2013
Boise, Idaho's Trevor Powers, better known as Youth Lagoon, released his sophomore effort, Wondrous Bughouse, in early March. The album has drawn critical acclaim from indie heavy hitters like Pitchfork and A.V. Club.
Power's current release shows its roots back to his 2011 release, The Year of Hibernation, with a heavy dose of dream-pop and chillwave influences. While Hibernation showed a minimalistic approach with sleepy beats and muffled vocals, Wondrous Bughouse shows a positive growth in a very psychedelic way.
The lead single "Mute" is where the album begins to pick up. The melodic synthesizer at the beginning paints a warm and bright picture while Powers' signature hazy vocals layer over it. Despite it's welcoming feel to it, the lyrics behind it appear to tell a story of self-doubt, questioning what is real and what we perceive as real.
"Bath" is the track that follows and is very reminiscent of "Cannons" from Hibernation. This time around though the track is much darker and less clear compared to "Cannons".
Most of the album has a very dreamy feel to it, similar in ways to a more psychedelic Beach House, and is comparable to Washed Out's 2011 release, Within and Without, where it is easy to get lost in the hazy, distorted vocals and bright melodies.
The sophomore slump that many artists encounter was avoided on Wondrous Bughouse, and appears to be a strong album early on for 2013. At 23 years old, we are hopefully seeing only the surface of Powers' young career.
Reviewed by Blake Mehigan