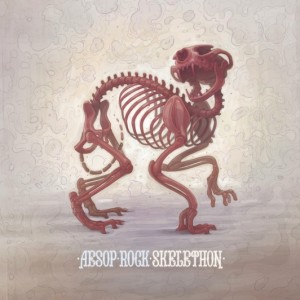 Artist: Aesop Rock
Album: Skelethon
Label: Rhymesayers
Released: July 10, 2012
Skelethon was the long awaited release from Underground Hip Hop legend Aesop Rock, both a phenomenal lyricist as well as one of the most interesting producers. Currently residing in San Francisco Aesop has been under the radar for the past five years. Skelethon was his sixth studio release, the first album under Rhymesayers Entertainment.
If you are familiar with Aesop's music you are aware that he uses a very unusual musical style. He uses heavy wordplay with unique rhyme schemes. The word selection chosen by Aesop continues to wow his audience. It would drive the lyrically interpreting listeners crazy. One is unable to decipher the code that is Aesop's lyrical style. However he does provide great imagery for the listener, it is not recommended to dwell any deeper then that.
Aesop has always had a pessimistic style frequently discussing death and leaves a feeling of being in a nightmare in many of his tracks. Skelethon maintains this style we have grown accustomed to. There is no time to rest with the constant lyricism on top of the incredibly mastered beats. Skelethon is the first fully self-produced album. This provides the album with a very unique feel. He was able to match every beat with the lyrics at his own will.
The album is a constant lyrical assault that doesn't even rest for a chorus. There is a minor break on the track "Crow 1" where he features Kimya Dawson with some vocals. Her appearance adds an interesting flavor to the track. The voice doesn't seem menacing however it contains morbid thoughts similar to the rest of Aesop's album.
Overall Skelethon is another Hip Hop album for the books. Aesop has gone a long way since his first release of "Float" in 2000 but it is very refreshing to know that he still manages to produce quality work. This album will be listened to for years to come.
Reviewed by Max Nelson
September 17, 2012
Read More